My brother made the Momofuku Bo Ssam once for one of his parties and I couldn't stop eating it! It was an amazing combination of spicy, sour, salty, cool, ginger-scallion, porky goodness. I made it for our family's Christmas gathering and made a number of modifications after reading some online feedback and through my own trials. I'm not a fan of oysters, so I don't include them when I make this, but I've included them in the recipe as written.
So what did I change?
Problem: The Bo Ssam is too salty.
What I did: Halved the brine amounts and rinsed the pork butt before putting it in the oven. I was able to use the prescribed brine for two 8-9 lb pork butts. So half the recipe for one pork butt.
Problem: Ginger Scallion sauce too intense
What I did: Doubled the amount of oil to ½ cup (see recipe below), heated the oil (I test it by putting in a small piece of ginger and waiting until it browns) and then poured it over the ginger and scallions so that they are cooked slightly. I slice my ginger extremely finely and my scallions sliced finely cross-wise.
Problem: Crust on the pork butt doesn't caramelize and instead just burns and smokes.
What I did: Baste the pork butt prior to putting on the sugar, put on the sugar and then lightly baste again to wet the sugar. This created an awesome crispy, caramelized fatty crust.
Problem: Lettuce is too delicate for the hot rice and pork.
What I did: Consider using romaine or multiple layers of iceberg, cut into useable size. If using romaine, you can eat it like a taco.
Lastly, a fun addition can be pickled carrot and daikon shreds (Do Chua) which added additional crunch and tang, but is completely optional.
What do you do with all the extra leftovers while you are hiding in your home from COVID-19? You make dumplings. I made dumplings from the extra bo saam, rice, and ginger scallion sauce. You mix the filling all together to the right amount of seasoning.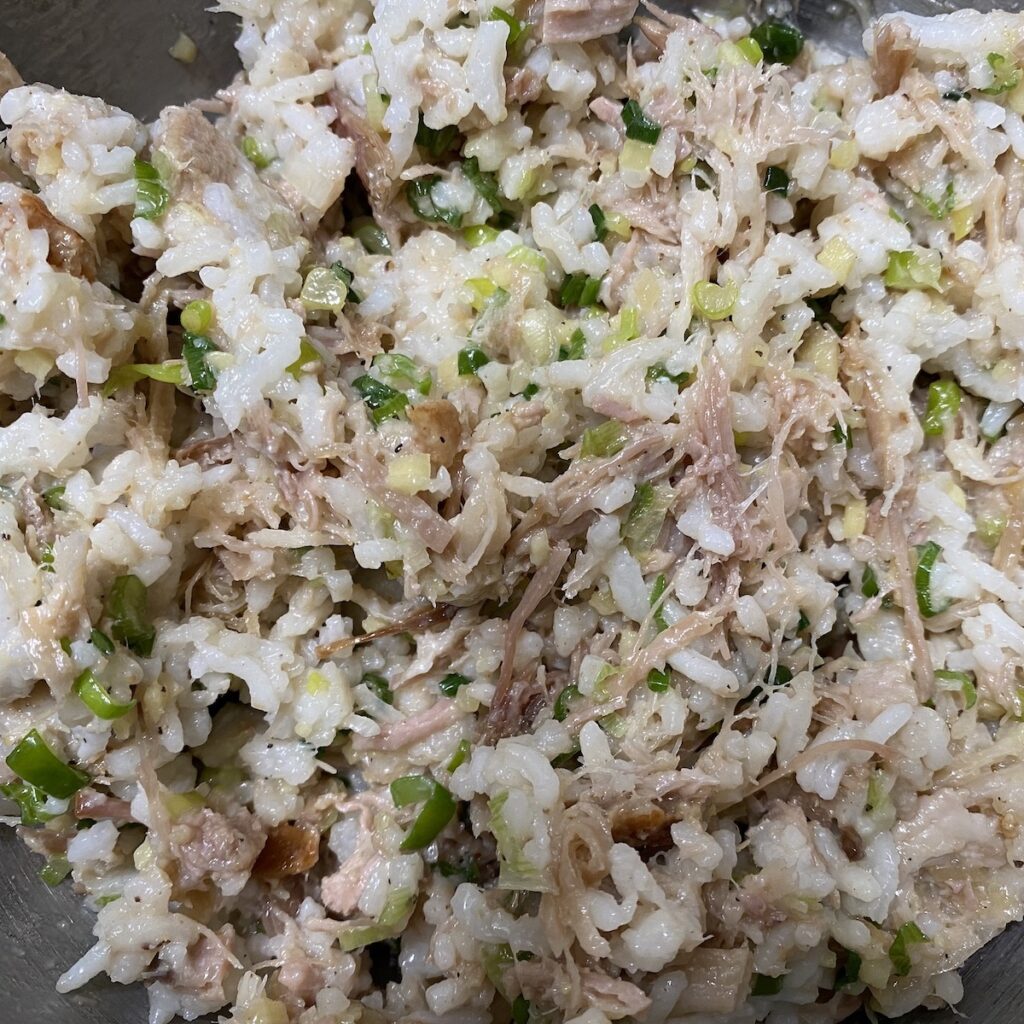 And I used premade Gyoza wrappers. I used the saam sauce as the dipping sauce. You can see the finished product here. No need to pleat. Cook as you would any other dumpling, but you can do it for a shorter amount of time with a little less water (¼ cup) since the filling is already cooked.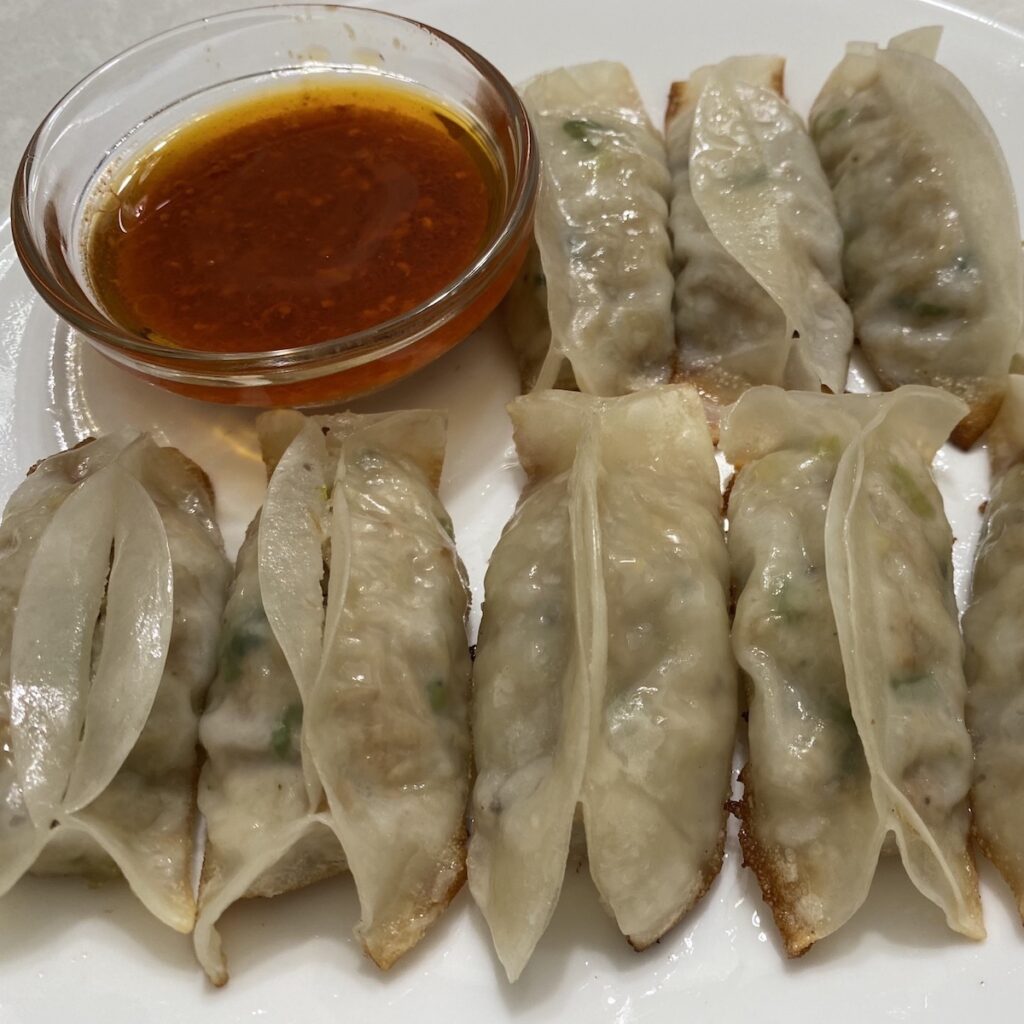 Momofuku Bo Ssam - Perfected
Cook Time:
6 hours
30 minutes
Total Time:
13 hours
15 minutes
I think these adaptations help either clarify issues that some people who have made this have had or make the flavors better.
Ingredients
8 to 10 pound bone-in Boston pork butt
½ cup granulated sugar
½ cup plus 1 T kosher salt
7 tablespoons light brown sugar
1 dozen oysters, shucked (optional)
1 cup Napa Cabbage Kimchi, plus 1 cup pureed
1 cup Ginger Scallion Sauce (see below)
Ssam Sauce (see below)
2 cups Short-Grain Rice
3-4 heads Bibb lettuce, leaves separated, well washed, and spun dry (I recommend Romaine or iceberg instead)
Instructions
Put the pork shoulder in a roasting pan, ideally one that holds it snugly. Mix together the granulated sugar and ½ cup of the salt in a bowl, then rub the mixture into the meat; discard any excess salt and sugar mixture. Cover the pan with plastic wrap and put it into the refrigerator for at least 6 hours, or overnight.
Heat the oven to 300F. Remove the pork from the refrigerator, lightly rinse the brine off the pork butt and discard any juices that have accumulated and rinse the pan out.
Put the pork in the oven and cook for 6 hours, basting with the rendered fat and pan juices every hour. The pork should be tender and yielding at this point – it should offer almost no resistance to the blade of a knife and you should be able to easily pull meat off the shoulder with a fork. Depending on your schedule, you can serve the pork right away or let it rest and mellow out at room temperature for up to an hour.
Cook the rice (rice cooker or pot) - 2 cups of short grained rice to 2 ⅓ cups of water. Or follow one of the many recipes online. My preference is a more wet rice. If you prefer a drier cooked rice, use a 1:1 ratio of rice to water.
When ready to serve – rice is made, sauces are made, lettuce is washed – turn the oven to 500F.
Baste the pork butt again and stir together the remaining 1 tablespoon salt and the brown sugar and rub the mixture all over the pork. Lightly baste the sugar covering (this is important to help create the caramelized crust).
Put it in the oven for 10 to 15 minutes, until the sugar has melted into a crisp, sweet crust. It shouldn't smoke and burn but sizzle and crisp to a caramelized crust.
Serve the bo ssam whole and hot, surrounded with the accompaniments.
Shred the pork
Ssam Sauce
Adds a really great acidity to the Bo Ssam meal.
Ingredients
2 tablespoon ssamjang (fermented bean and chile paste), sold in Korean markets
1 tablespoon kochujang (chile paste)
½ cup sherry vinegar
½ cup grapeseed or other neutral oil
Instructions
Combine all the ingredients and stir until evenly mixed. Ssam sauce will keep in the fridge for a week.
Nutrition Information:
Yield:

16
Serving Size:

1
Amount Per Serving:
Calories:

69
Total Fat:

8g
Saturated Fat:

1g
Trans Fat:

0g
Unsaturated Fat:

7g
Cholesterol:

0mg
Sodium:

1mg
Carbohydrates:

0g
Fiber:

0g
Sugar:

0g
Protein:

0g
For the ginger scallion sauce, you can use the recipe on my blog.